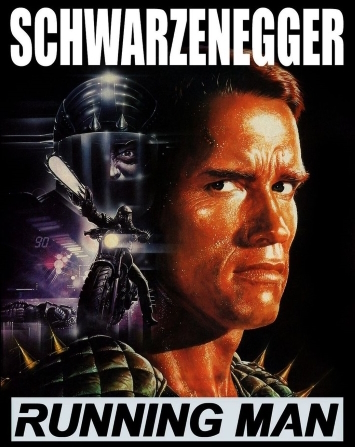 We are proud to announce that Radio vs. the Martians! is going to be returning to The Beacon Cinema to sponsor another theatrical screening to benefit the Pacific Northwest Starbucks Workers United relief fund! And this time, we're watching one of Arnold's finest. The one, the only, the increasingly frighteningly plausible science fiction action dystopia: The Running Man.
When: Thursday, March 23rd @ 7:30 pm
Where:  The Beacon Cinema at 4405 Rainier Ave S., Seattle, WA 98118
Cost:   Tickets at $12.50 each, with all admissions for PNW Starbucks Workers United
You can buy tickets now, but seats are limited!
---
RADIO VS. THE MARTIANS presents …THE RUNNING MAN

If you have never seen this seminal piece of 80's sci-fi action absurdity, you're our next Runner.

Directed by Paul Michael Glaser (yes, that's Detective Starsky), who would later gift all of humanity with KAZAAM, THE RUNNING MAN's B-movie, primed-for-video-rental-shelves aesthetic is smashed together with God-Emperor Arnold Schwarzenegger's A-list charisma.

Arnold plays falsely-convicted war criminal Ben Richards, whose punishment consists of "voluntary" participation on America's Most Popular Game Show™ THE RUNNING MAN. Can he survive being hunted by increasingly cartoonish "Stalkers," celebrity killers who rip and tear for top ratings? Will there be a parade of satisfyingly bombastic kills? Will Arnold deliver the best comebacks ever written (penned by Die Hard scribe Stephen E. DeSouza)? You bet your sweet ass!

A cast of recognizable 80s regulars accompany Arnold, including Maria Conchita Alonso, Yaphet Kotto, Jesse "The Body" Ventura, Mick Fleetwood and Dweezil Zappa, to name a few. And we would be remiss if we didn't include Family Feud host Richard Dawson, as the delightfully malevolent Damon Killian.

Although based on one of Stephen King's early novels (under the pseudonym Richard Bachman), very little of the original material survives, instead being supplanted by a glorious pastiche of 80s action, sci-fi and pop culture tropes. Sautéed in TOP GUN and BEVERLY HILLS COP composer Harold Faltermeyer's delicious synthwave score, this film is a treat for the senses.

This screening is sponsored by the RADIO VS. THE MARTIANS! podcast as a benefit for the PACIFIC NORTHWEST STARBUCKS WORKERS UNITED labor union, and 100% of the admissions will be donated to their Relief Fund.