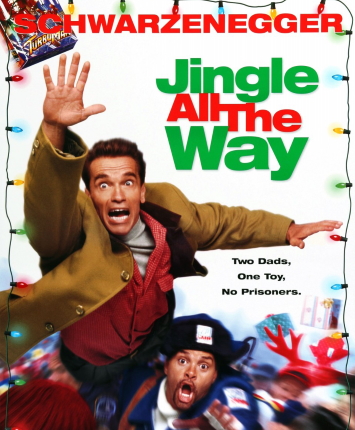 Two Dads, One Toy, No Prisoners.
Put that cookie down! Now! Because, this month, Christmas is coming early! We're getting into the holiday spirit with librarian Kit Laika, to unwrap Arnold's holiday comedy Jingle All the Way!

Workaholic salesman Howard Langston hasn't been the world's greatest dad. Habitually breaking his promises to spend time with his young son, he vows to make it up to him with a coveted Turbo Man action figure for Christmas. The only problem is that Turbo Man is the hottest toy of all time, and Howard has waited until the last minute. Now, he must contend with an unhinged rival father, an amorous neighbor, stampeding shoppers, a gang of bootlegger Santas, and a vicious pet reindeer, in order to find the elusive toy in time for Christmas, and finally keep a promise to his son.
Podcast: Play in new window | Download
Subscribe: RSS