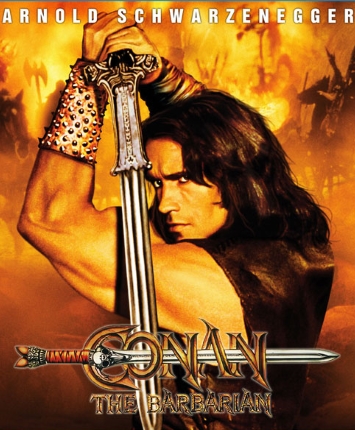 "Crush your enemies. See them driven before you. Hear the lamentations of their women."
Crom, we have never prayed to you before. We have no tongue for it. Podcasts please you, Crom…so grant us one request: grant us a discussion with Greg Hatcher of the Atomic Junk Shop blog! Together we will travel back to an age undreamed of, and discuss the bloody fantasy epic that put Arnold Schwarzenegger on the map: 1982's Conan the Barbarian!
An adaptation of the classic Robert E. Howard pulp hero, Conan of Cimmeria is a warrior, a thief and a slayer of men. After the slaughter of his parents and tribe by a doomsday snake cult, Conan is enslaved and made into a gladiator. Thus begins his quest for bloody vengeance with sword, and axe and his own bare hands.
Podcast: Play in new window | Download
Subscribe: RSS