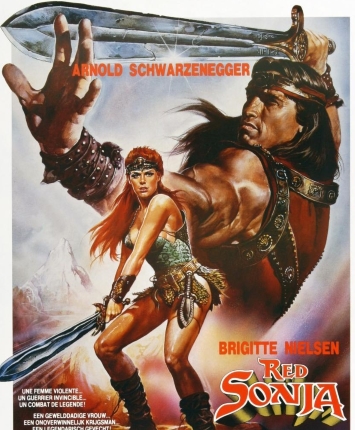 A woman and a warrior that became a legend.
This month, we're back in the Hyborean Age to battle wizards and monsters with Tobiah Panshin of the House of Jack and Stan to test our mettle against the third and most poorly-received of Arnold's fantasy epics: Red Sonja!

When her family is murdered and her body defiled by soldiers of the mad Queen Gedren, a vengeful Red Sonja is gifted with great power to take her revenge. Sonja's help is sought by a dying priestess when Gedren steals an ancient Talisman with the power to make or destroy worlds. Now with the aid of the mighty Lord Kalidor of Hyrkania, Red Sonja must battle to the center of a kingdom of perpetual night to destroy the Talisman, and save the world!
Podcast: Play in new window | Download
Subscribe: RSS