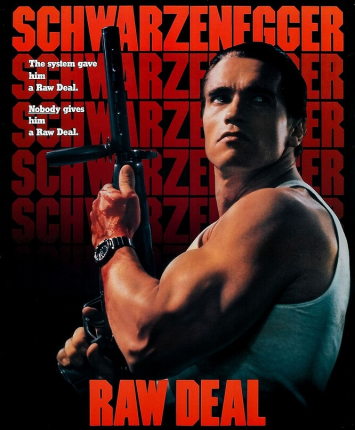 The system gave him a raw deal. Nobody gives him a raw deal.
We're back! This month, we're slicking back our hair and dodging cakes with Joe Preti, and infiltrating the inner circle of the mostly-forgotten organized crime action flick: Raw Deal!
Disgraced ex-FBI agent Mark Kaminsky is living in exile as a small town sheriff when he's contacted by an old mentor from the bureau. Thirsty for revenge after his son was killed protecting a witness in the Luigi Patrovita mob trial, he sends Kaminsky deep undercover — and off the books — into the Patrovita inner circle. Now this one-man wrecking crew must enact bloody revenge and perhaps earn his job back in the FBI.
Podcast: Play in new window | Download
Subscribe: RSS